Space to Connect: The Bronx Collaboration with Fordham Plaza
Application Deadline: August 18, 2019
Residencies Start: Sept. - Dec., 2019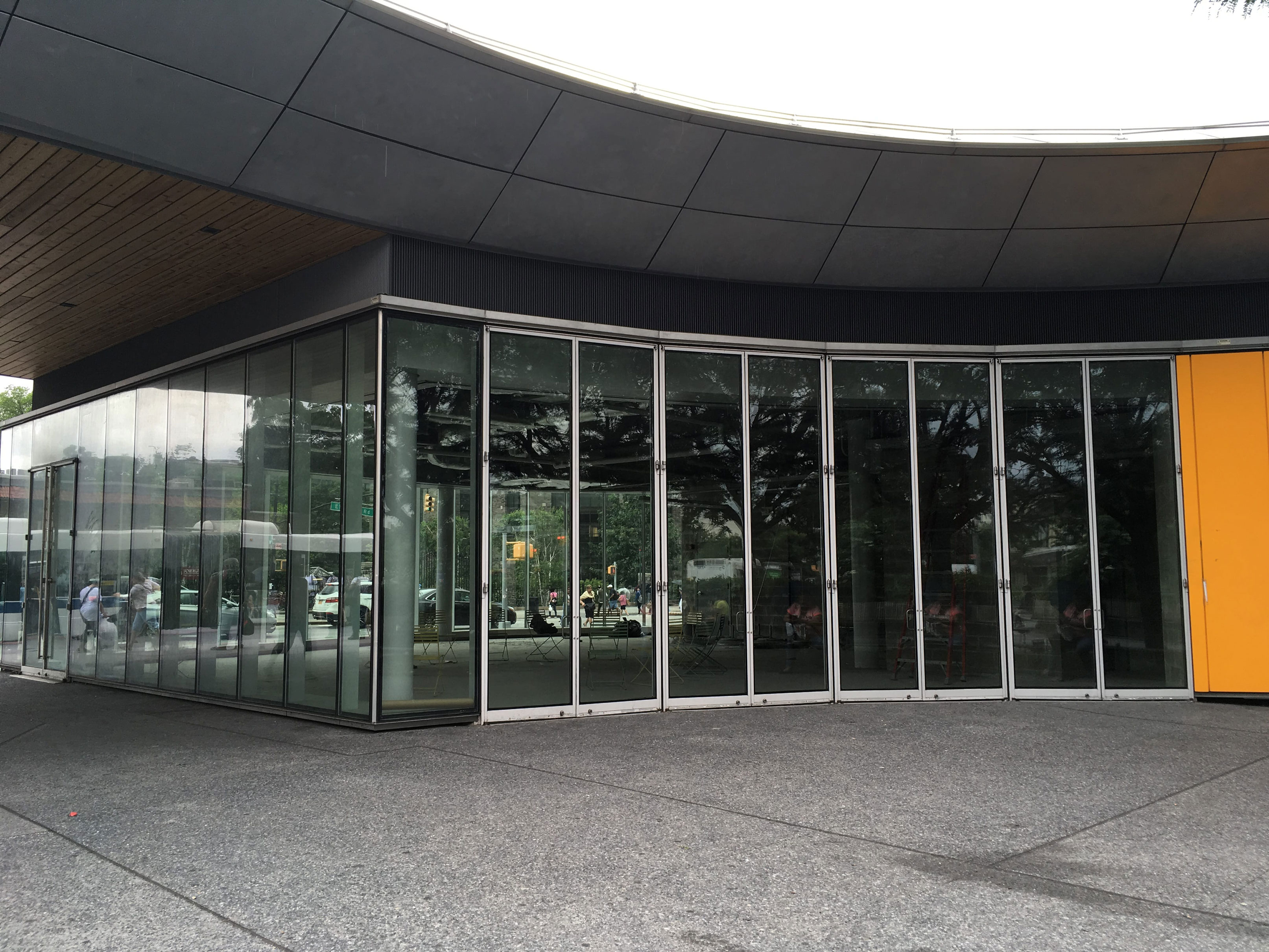 Thank you for your interest in Chashama's Space to Connect - Fordham Plaza Application.
Chashama in collaboration with the Department of Transportation, is offering work & presentation space to artists in a highly visible location on Fordham Road. The building provides unobstructed floor to ceiling windows that let in a plethora of natural light, while the surrounding area is a hub for commuters, shoppers, & students alike. Your artwork will be exposed to a high volume of pedestrian traffic to admire, enjoy & be inspired by.
Additionally, the Department of Transportation will host a series of events outside, in & around the plaza in which you will have the opportunity to participate.
In exchange for the free work & presentation space, and a small stipend, the artists will co-create and host arts activities for the public during the aforementioned outdoor events in the plaza.
ABOUT THE COMMUNITY PROGRAMMING
Each Space to Connect artist will organize and host free arts workshops to the public in Fordham Plaza.
The arts workshops will be held in collaboration with a variety of organizations who will be hosting large events in the plaza. Some examples include The Fordham Plaza Green Market and The Bronx Book Fair.
The workshops will be held 2x a month, according to the dates of the events and will be thematically aligned with the hosting event. For example, a book binding activity would align well with the Bronx Book Fair.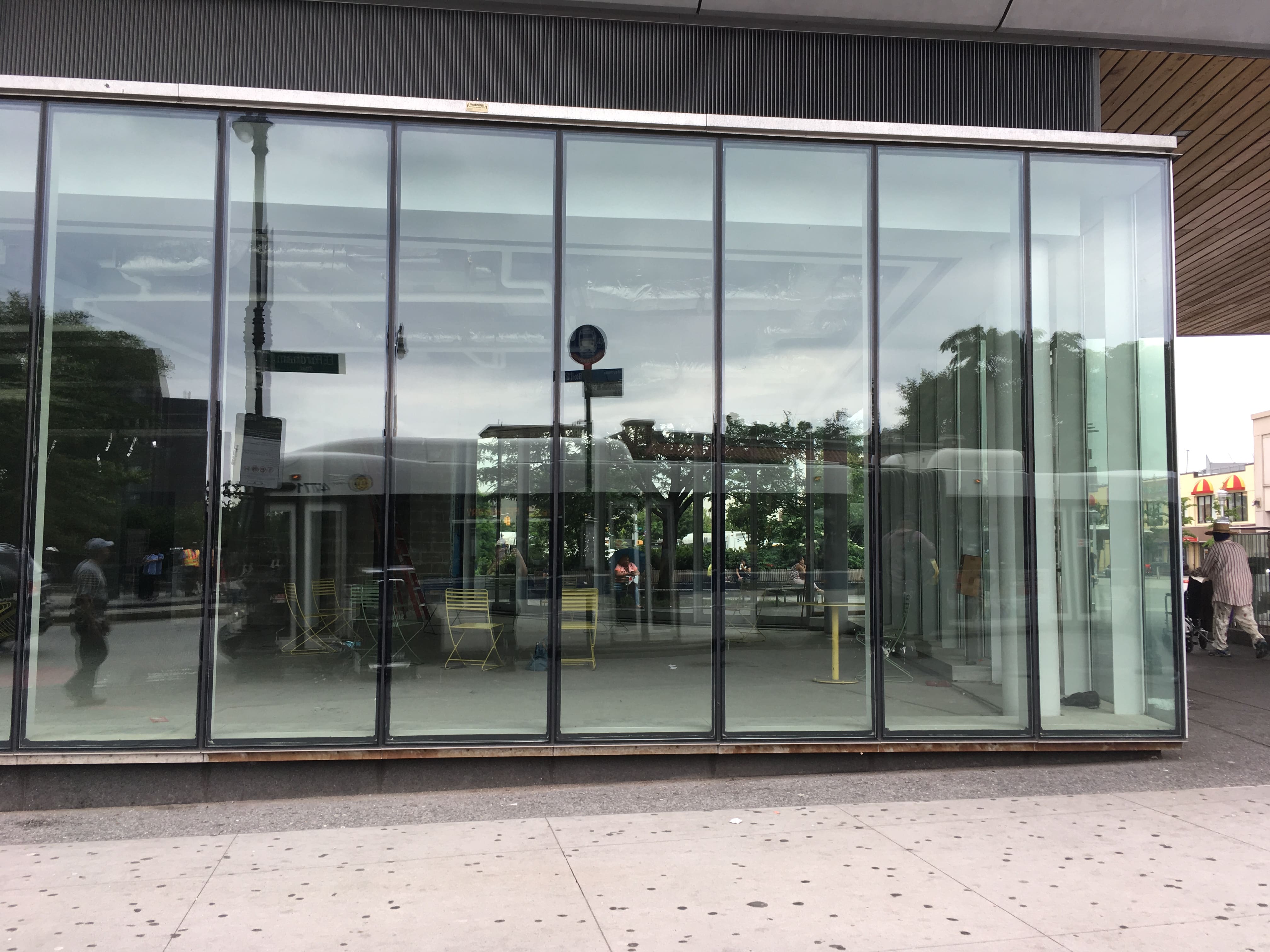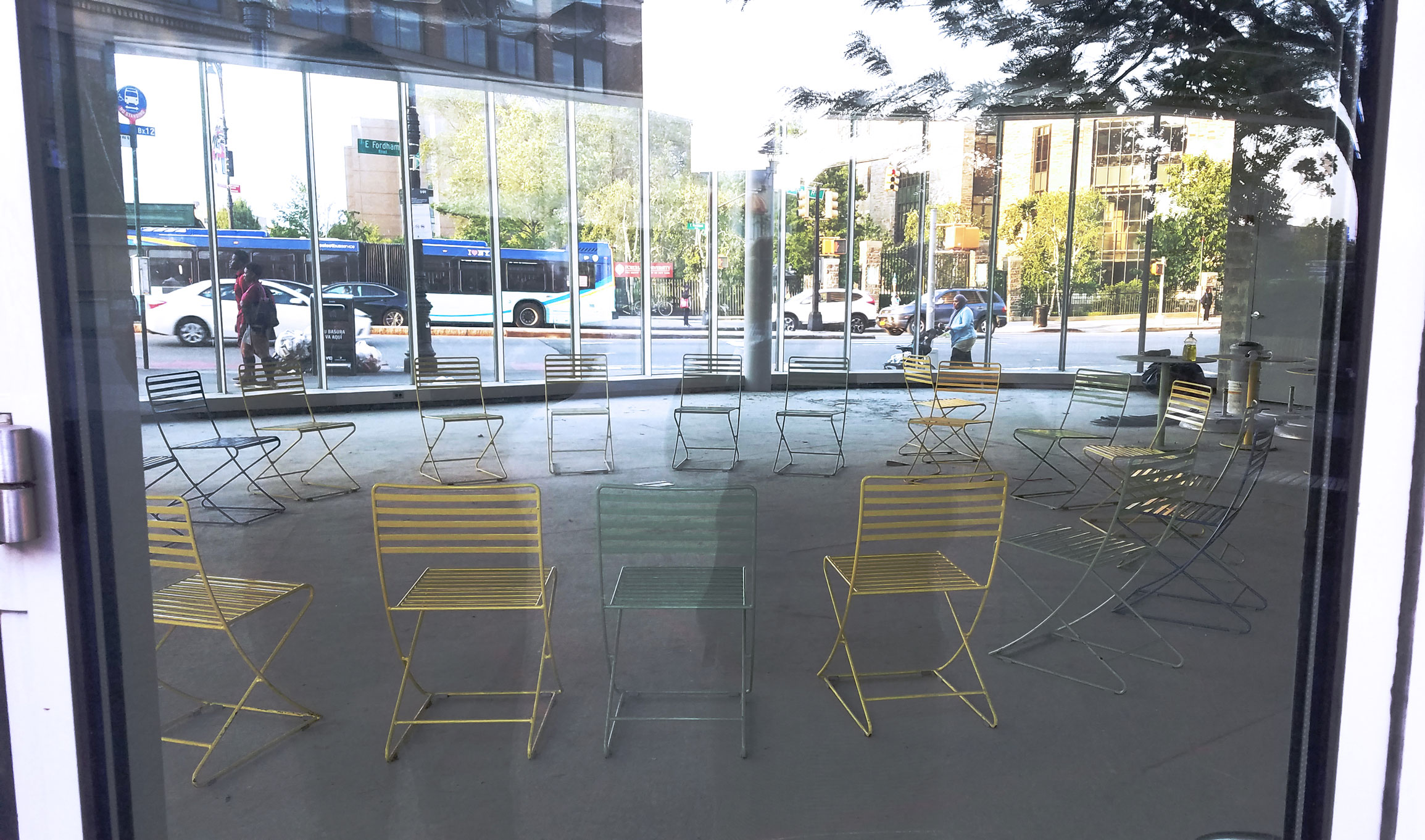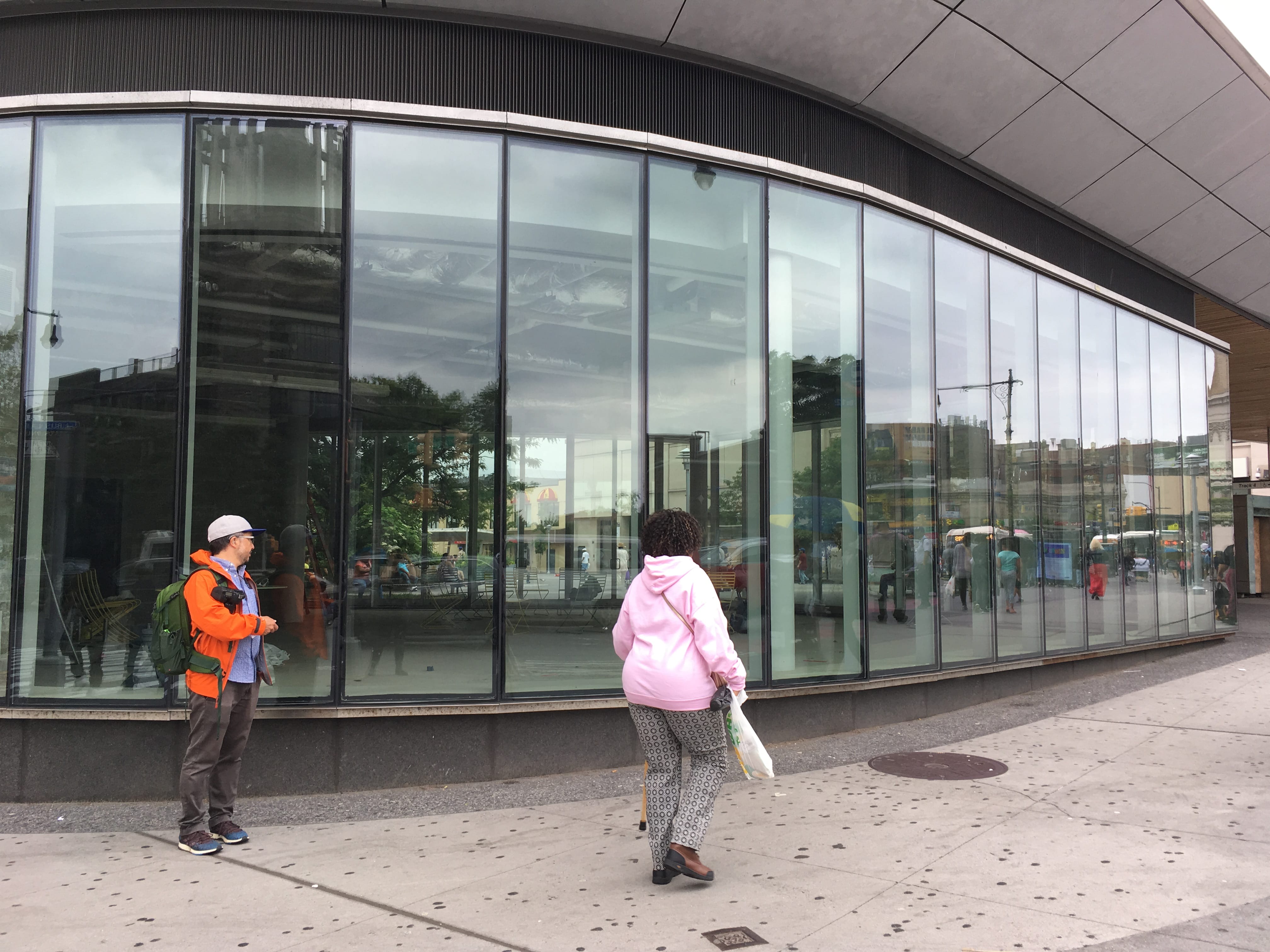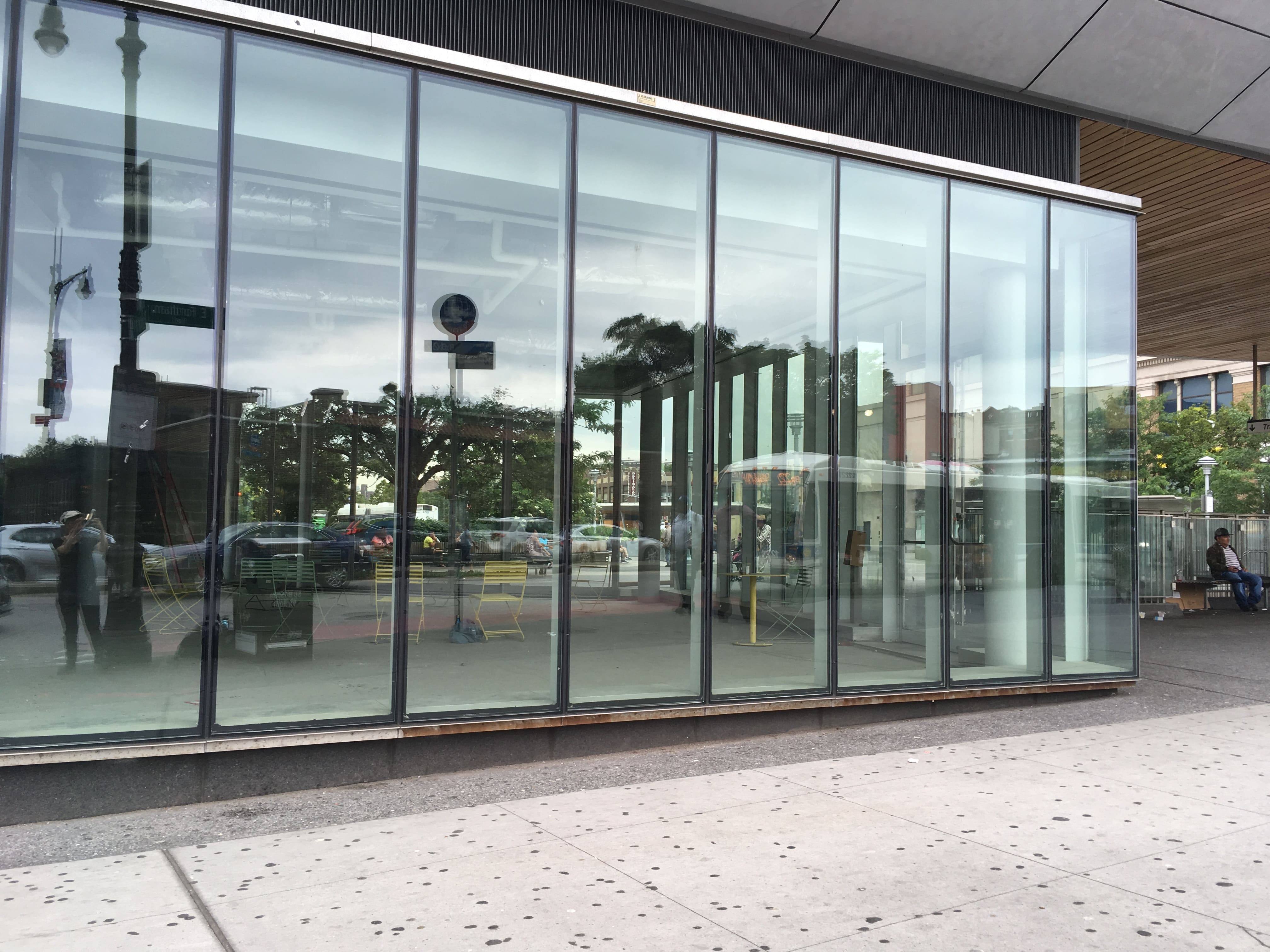 The space will be clean but raw. The window decals have been removed(see photo above).
ABOUT THE WORKSPACE
Four (4) ground floor workspaces partially separated by modular walls
Each studio is window-facing with two available wall spaces

Details: 6' (w) x 8' (h); will support 125lbs at 44lb per hanging point

Access to a bathroom & slop sink
Located in Fordham Plaza
Space will be closed to the public, although the public can view from the outside.
Nearby to Fordham University, New York Botanical Garden, Columbus Square, Bronx Public Library, Poe Park, as well as plenty of cafes and shopping centers.
Closest MTA train stop - B/D Fordham Road
Closest MTA Buses - Bx9, Bx12, Bx15, Bx17, Bx22, Bx41/ BK60,61,62X
Closest MetroNorth Stop - FordhamRoad stop on the Harlem, New Haven, and New Canaan Metro-North lines. The station is located directly across the street.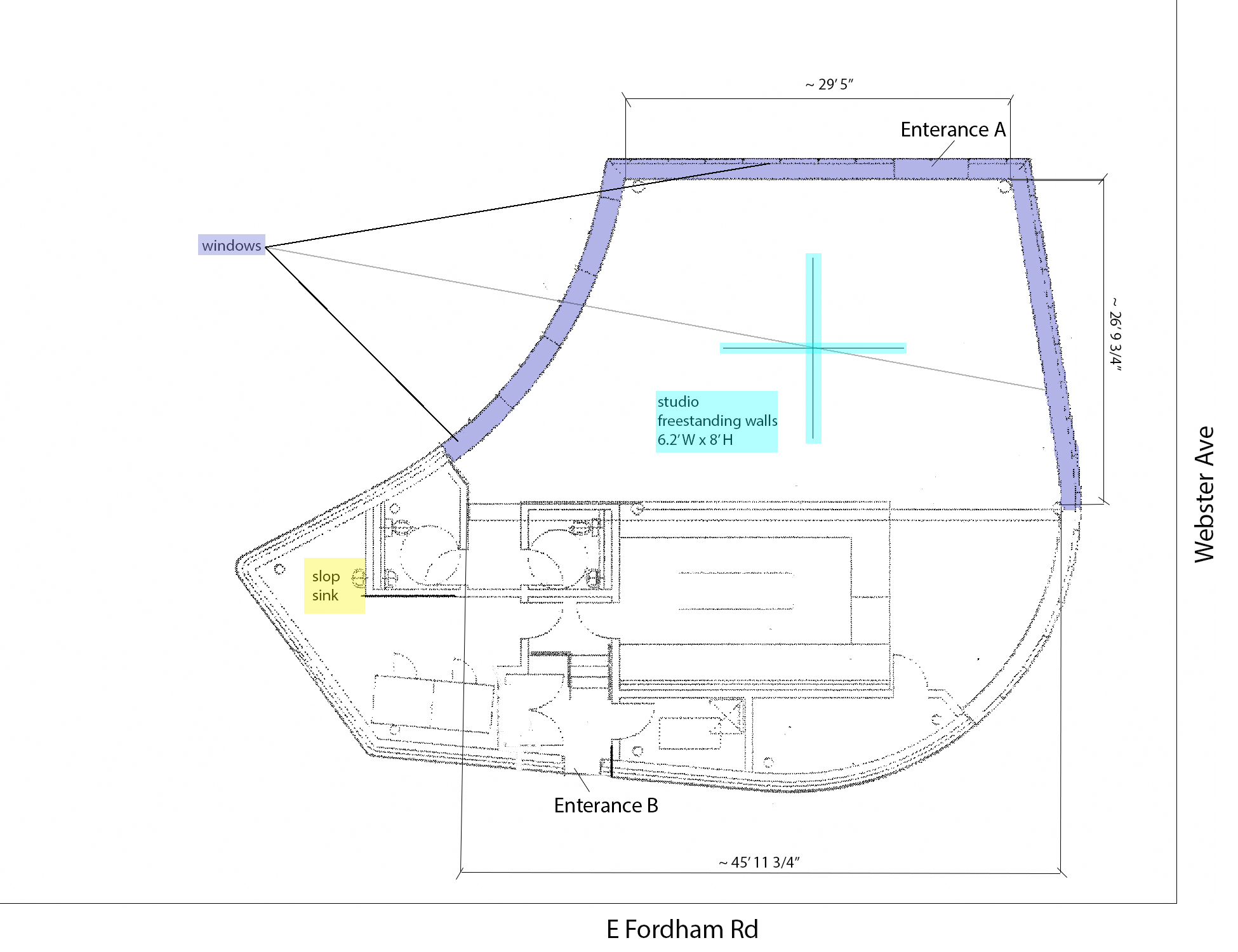 *Note - The purple lines correspond with the windows in the previous photos. The blue lines indicate the location of the future freestanding walls.
REQUIREMENTS
Bronx-based artist
Need or interest in working in a large open space, with minimal wall space
Comfort & willingness to co-create & host arts activities outdoors for the Bronx public
Commit to working mandatory number of hours in the studio, 5 hours per week
Comfort with working in a space that will be visible to the public 24/7
Artists are required to use the space as both show and work space. Each artist will receive a portion of the window space to show their work and a portion of the interior space as workspace.
REQUIRED MATERIALS
Resume or CV
Five to eight (5-8) images or video of recent work
Three (3) professional references - name, contact information, and how you know each other
Description of your artistic practice - include materials, methods, typical size of work, etc.
Description of how you will display your work.
Proposal of public arts engagement/workshop ideas
Important things to note:
Access to Materials for the Arts (MFTA) and a limited program budget are available for workshop supplies.
Please do not hesitate to reach out to spacetoconnect@chashama.org if you have any issues or questions regarding this form. We are happy to support you throughout the application process.
Applications are due August 18th, 2019 for a start date that could be as early as September or as late as December 2019.