ChaNorth: Apply for LIGHT YEAR, Manhattan Bridge Projection, ChaNorth alumni 2018 opportunity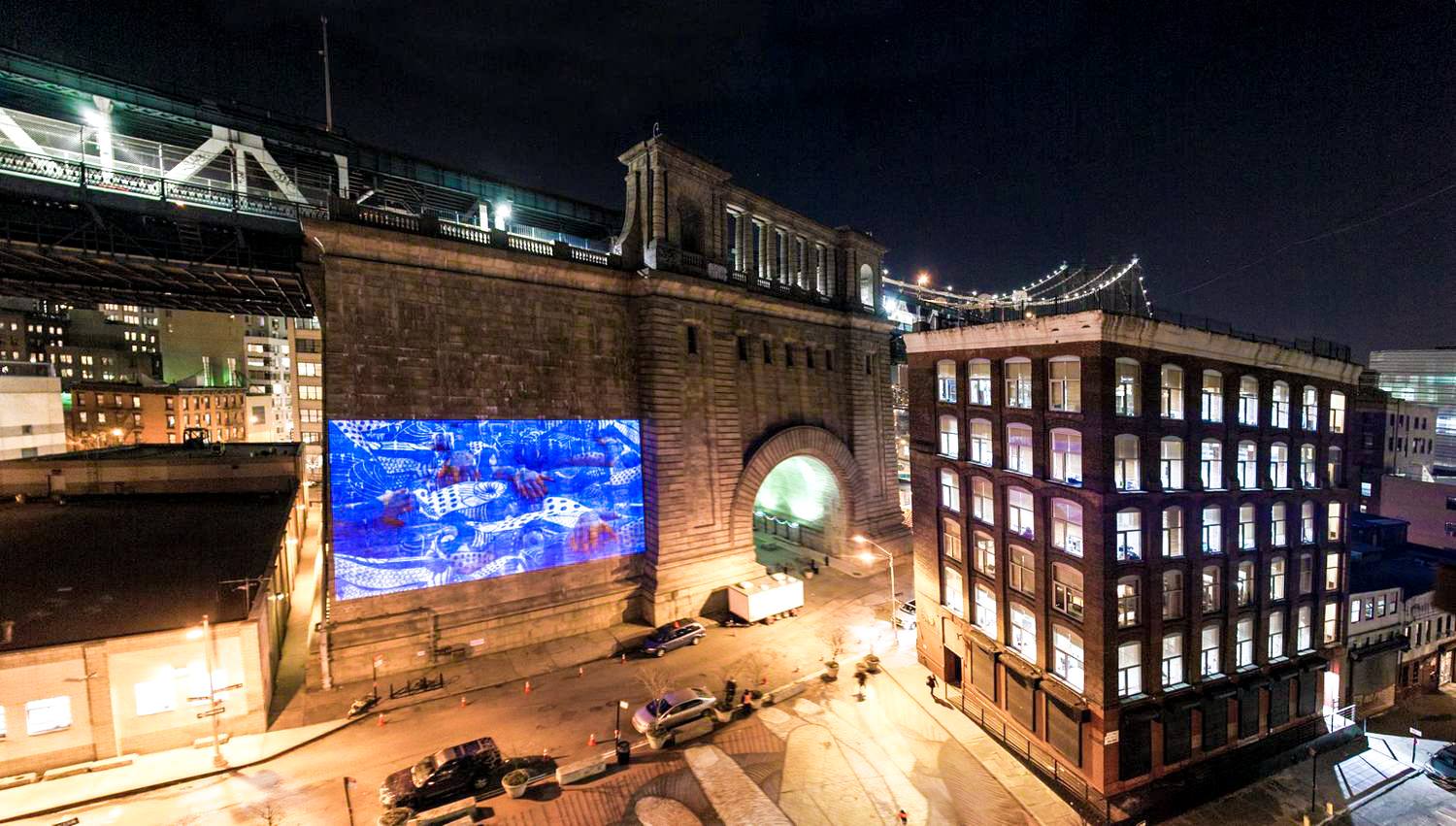 Image credit: Still from Joon Kim's Blue Fish, Digital Medium, 2012, as part of LIGHT YEAR 9: "Silence," Curated by Leo Kuelbs, Presented by 3_Search. Photo by Tomas Eller.
Opportunity for 2018 ChaNorth Resident Alumni artists to participate in a group video exhibition on the Manhattan Bridge, co-curated by Peter Fulop and Brigitta Varadi in collaboration with LIGHT YEAR.
The Manhattan Bridge comes alive with LIGHT YEAR! LIGHT YEAR is an ongoing public art video exhibition series presented by John Ensor Parker, Glowing Bulbs and the Leo Kuelbs Collection in partnership with the DUMBO Business Improvement District and NYC DOT. Originally created for the Manhattan Bridge Anchorage in DUMBO, Brooklyn, in 2015, LIGHT YEAR has become an international project, with presentations in DUMBO on the First Thursday of every month, in Berlin, and online. Since its launch, LIGHT YEAR has hosted the work of over 200 artists and curators from around the world.
WHEN
ChaNorth show will take place on Thursday, March 7th, 2019 from sundown to 10pm. The best place to view the show is at Anchorage Place and Pearl St. Brooklyn, New York. The show will be Live Streamed, which will be recorded for artists' documentation. Brigitta Varadi and Peter Fulop will select approximately 3 minute long video pieces from 5-7 artists (one video each) for a 20 min looped video piece. Each artist will be credited before their work appears with name and title of the work.
SITE VISIT
It is recommended that artists wishing to apply should visit a LIGHT YEAR exhibition to obtain a full understanding of the projection resolution and brightness, as well as the acoustics of the passing MTA trains on the bridge.
The most important thing before applying is to be aware of the site-specific nature of the projection, the site conditions and consider the type of imagery that best suits the surface of the bridge, scale, and projection quality. The next event takes place December 6th, 2018.
TWO STAGE SELECTION PROCESS
Artists are selected based on quality and commitment to their work, their project and work suitabality for the site. Artists shortlisted by curators Peter Fulop and Brigitta Varadi will be presented to LIGHT YEAR and NYC DOT for the final selection.
ChaNorth reserves the right to invite previous year alumni artists or artists associated with ChaNorth, if submitted work is not found suitable for the site either by LIGHT YEAR and NYC DOT.
Both LIGHT YEAR and ChaNorth reserve the right to cancel the show due to any act of God or equipment failure of any kind.
Upon signing the Agreement with ChaNorth, including permission for use of images in PR materials, LIGHT YEAR (LY) will provide social media and press covarage for artists on varying platforms.
LY uploads approximately 15 second video clips from the show to Instagram and Facebook. (If any artists wish to not be included, please notify your curator and we will omit you from that format.)
LY uses approved images, clips and information on the work/artists for their websites.
The Dumbo BID uses images and video clips for their Instagram, Facebook and website.
The NYC DOT and Dumbo BID retain the right to use approved images, clips and exhibition information on their social media platforms and website.
What you need to apply
Title of the work
Description of the work (max 120 words)
Max 3 minutes video work in HD
Two high resolution images of the work
Artist bio (max 120 words)
Please find more information about LIGHT YEAR
Please email Brigitta and Peter at chanorth@chashama.org if you have any further questions.